Giving you a competitive edge
At ClaimVantage, we provide industry-leading software for managing life, health and absence claims efficiently and securely, helping you deliver superior customer service for a competitive edge.
Hosted on the Salesforce platform, our highly configurable and intuitive cloud-based software is developed and updated by industry experts. We provide regular enhancements to keep you on top of market changes and industry developments.
Our best-in-class solutions are fully integrated and can be accessed anytime, anywhere, helping you minimize fraud, streamline operations and improve productivity, while saving on implementation costs.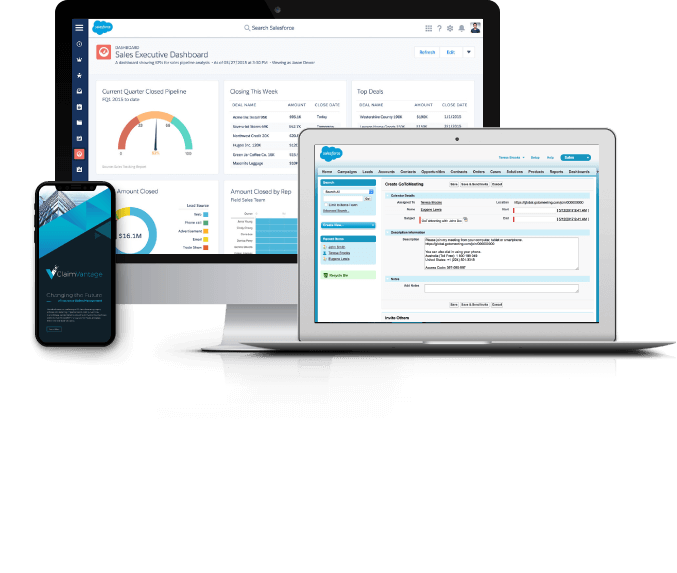 Innovative Software Solutions
On the cloud
Absence Management
Software
Accommodation Management
Software
Claim Processing
Made easy

Automate workflows
and tasks

Store everything
electronically

Reduce Operational
Effort
Increase efficiency
by 30%


Built on Salesforce
Lightning platform
The Salesforce Lightning Platform is the global leading platform for creating and deploying next-generation cloud-based applications. The ClaimVantage software solutions are built on top of the underlying architecture, providing you and your business with secure, reliable, and scalable software.
ClaimVantage is a Gold ISV Partner which leverages the Salesforce Platform-as-a-Service (PaaS) to offer you:
Data Indemnity & Security
Regular Software Upgrades
Flexibility & Scalability to Support your Growth
Reduced Infrastructure Costs by up to 60%
You've got to see it
To believe it
Don't Just Take our Word for it
Hear what our customers have to say
"This powerful tool is the heart of the claims operation, supporting our product, sales and customer service tool."
We work with insurance companies, Third-Party Administrators, and large employers across the globe. With offices in the USA, UK, Ireland, Australia, South Africa & Japan we offer a level of support and customer care that is unrivaled in the industry.
Latest Insights
Don't miss out on our latest InsurTech insights